Discover the Dutch Spirit
The Netherlands is one of the top startup ecosystems in the world. We offer talented people from all over the globe the opportunity to communicate, create, explore, grow and live like a successful innovator. What does that mean? Discover our Dutch Spirit for yourself and change the world on your terms.
Building Europe's #1 startup ecosystem
The development of the global tech sector is happening at an unprecedented pace. This has deep implications for startups, founders and our economies at large. At Techleap.nl we believe the Netherlands is the best place for starting, growing and internationalizing your business. Just look at our successes:
• Adyen, which went public in June after which the stock skyrocketed and is worth 17 billion dollars
• Takeaway, the on-demand food delivery company that went public in 2016 at a 1.1-billion-dollar valuation
• Booking.com, which was acquired by Priceline in 2005 and has become one of the biggest names in global travel
• GitLab, the other Dutch Unicorn, said to raise 100 million dollars at a valuation of 1.1 billion dollars this month.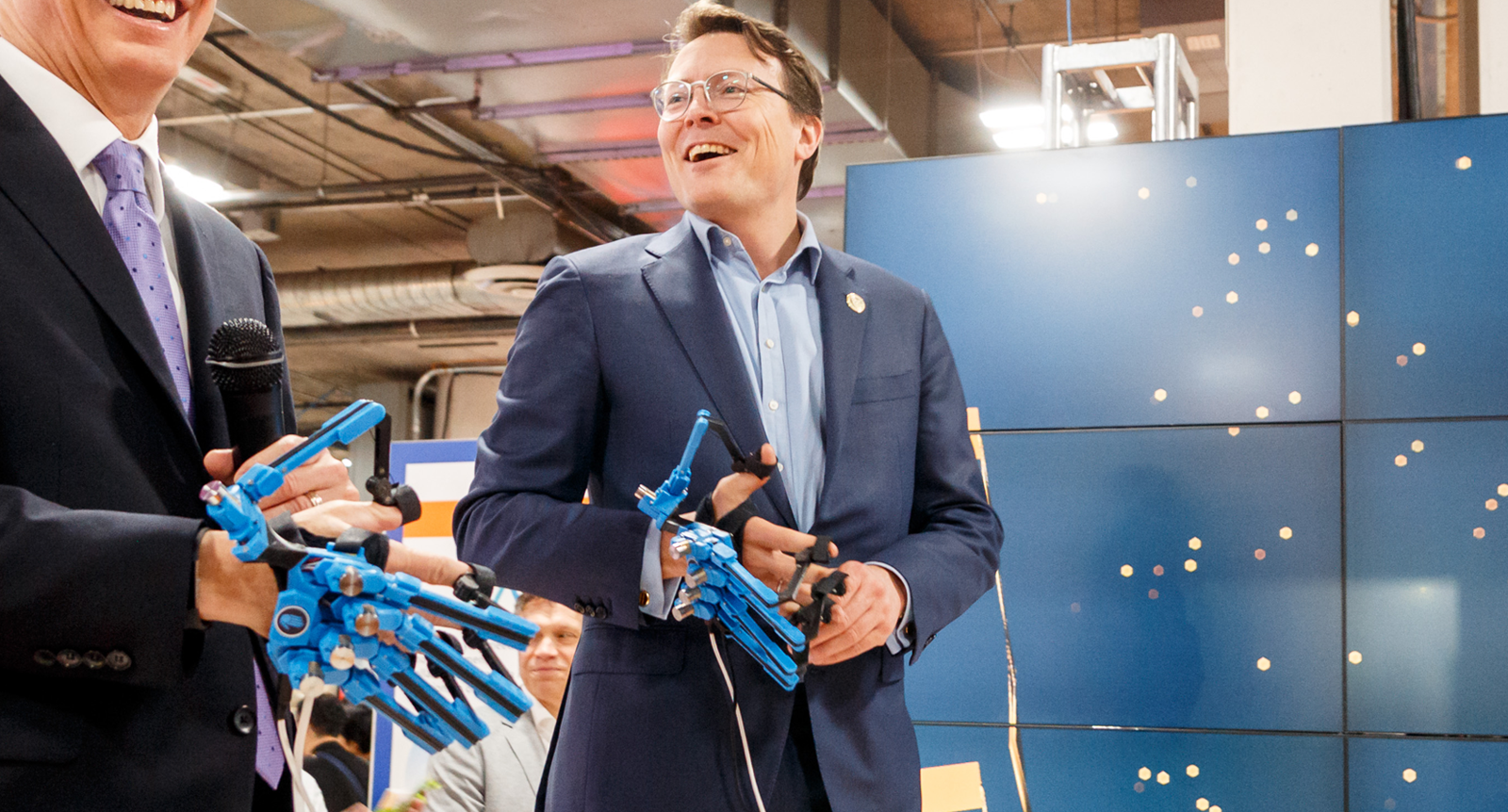 "The Netherlands is the ultimate innovation nation..."
...says Constantijn van Oranje. As special envoy at Techleap.nl he has been one of the strongest advocates for the Dutch startup community. What is his vison on our ecosystem? Why should innovators come here? And what are the plans of Techleap.nl?
What is Techleap.nl exactly?
Techleap.nl is a public private platform that has as its main ambition to turn the Netherlands into the best innovation ecosystem of Europe. Together with partners we are working hard to merge the Dutch startup ecosystem into one single connected global hub, breaking down barriers and improving access to talent, capital, networks, knowledge, and global markets.
Can you name three Dutch founders that have inspired you?
I've been really impressed by the founders of Adyen. Especially Pieter van der Does. He is so focussed and never lets himself be distracted. Then there is Merijn Ter Heggen, a Silicon Valley-based entrepreneur who hooked up with two brilliant trouble-maker hackers in Groningen. Together they formed HackerOne, which is now a very fast-growing company in the US. And Boyan Slat. He started with a ridiculously big ambition: free the world's oceans of plastic. And now, six years later, he's actually rolling out his first installations.
What are most given reasons why international entrepreneurs come to the Netherlands?
Well, the Netherlands is the ultimate innovation nation: always looking to challenge the status quo and searching for solutions to the toughest global challenges. If someone says, "This is the way we do it", someone else will reply: "Why, isn't there a better way?" For a country that is mostly under sea level being inventive is an existential capability. The Netherlands literally innovated itself into existence. Also a plus: our English is excellent, especially in comparison to other non-English speaking countries. And we value a good balance between working hard and having a decent lifestyle. And we've got a lot to offer when it comes to quality of life: housing is relatively cheap, public services are good, and our cities are dynamic and boast lots of great museums, festivals, clubs and restaurants.
How does Techleap.nl support Dutch startups to scale up their business?
We've developed a comprehensive program in support of our ecosystem and entrepreneurs, based on four priorities. We've effectively mapped almost 6.000 startups and scale ups, investors, incubators and accelerators in our ecosystem. We are also working with a network of universities, tech transfer offices and ministries to help our Dutch talent pool bring their ideas to the market with scalable business solutions. Thirdly, we focus on connecting the innovation hubs, to accelerate the pace of innovation and ease of connectivity for international investors, talent, startups and corporates. And finally, we are introduced a scaling program to create maximum impact for scaling Dutch companies at international tech events and in the world's leading innovation hubs.
---
"Think of new ways
to create smart solutions"
Dutch Spirit, by Constantijn van Oranje
---
What are Techleap.nl next steps?
Building the number one startup ecosystem of Europe: that is our main mission. We are already ranked as 'number three most innovation nation globally', we're the world's second largest agricultural exporter, and the most connected economy globally. We are now pushing hard to create the optimal connected startup ecosystem. And the coming months we are building global connections to the main innovation hubs where our entrepreneurs can benefit from a soft landing and launchpad networks to localize their business and services, find smart capital partners and reach the next growth phase of their company.
That's the Dutch Spirit!
In the Netherlands we offer talented people from all over the globe the opportunity to communicate, create, explore, grow and live like a successful innovator. Discover our Dutch Spirit below, and change the world on your terms.
Communicate
1

.

Dare to
be bold
The Dutch way of communicating is very direct. We believe anything can be discussed, from your salary to the name of your co-worker's new Tinder date. Some call it blunt, we call it honest: what you see is what you get.
Create
2

.

Test ideas
right away
Innovation is all about experimenting and testing. In the Netherlands, we have the capacity and the drive to test and validate ideas as soon as possible. And we love trying out new things and technologies. Creating a new app? Bring it on!
Explore
3

.

Explore all your options
We've always had an inventive, explorative mindset. Being innovative is in our nature. Did you know, for example, that we created the first CD? And we were the authors of the code language that NASA is still using today?
Grow
4

.

Connect
and co-create
Looking to co-create? Our compact country is packed with knowledge and entrepreneurial expertise. Every one of our universities is ranked in the world's top 200, and it's easy to connect with award-winning accelerators, incubators and renowned companies. Talking with us is easy too, since we're the best non-native English speakers in the world!
Live
5

.

Don't forget
to enjoy life
We like to work hard and aim for success. But we also believe life should be fun. So the Dutch often end their working week with afternoon drinks, called Vrijmibo. And in the weekends, we love to visit restaurants, museums, clubs, festivals, parks or the beach. Like to party? You can choose from almost 950 festivals each year. And be sure not to miss Koningsdag, when the whole country celebrates the King's birthday in style.
What is Dutch Spirit to you?
Ever done business with a Dutchie, or travelled our country? Share your experience via #dutchspirit.